ضخامت سنج رنگ EC555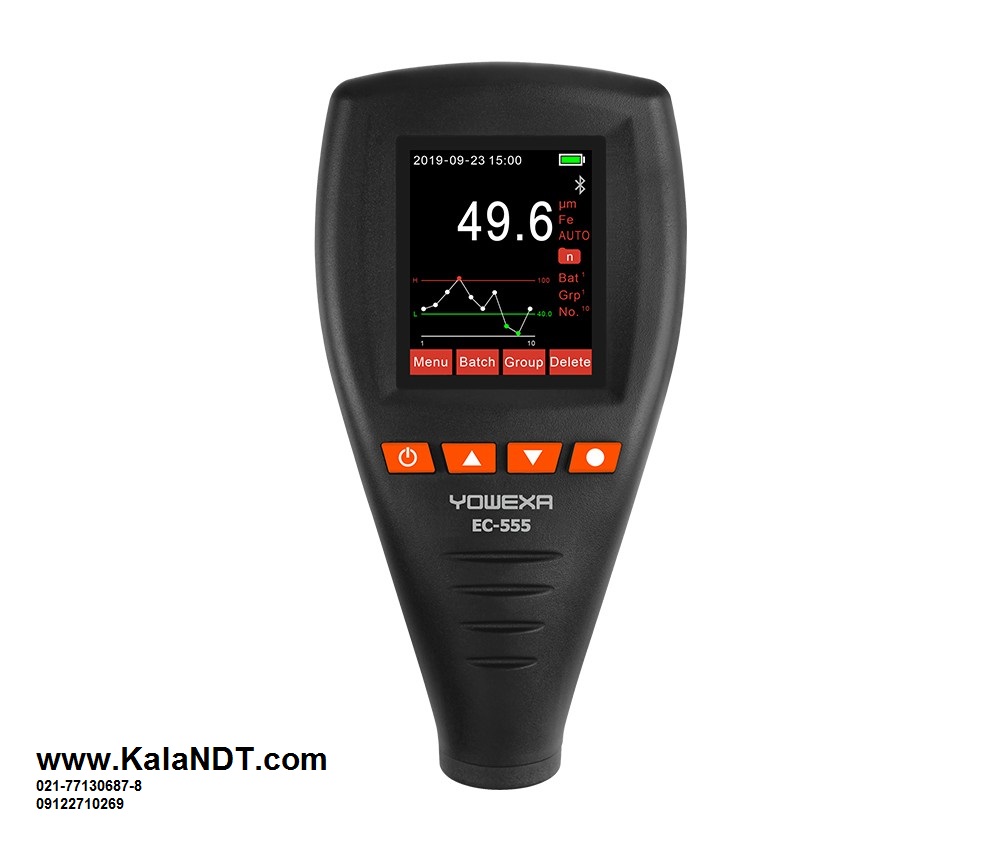 ضخامت سنج رنگ EC555
دستگاه ضخامت سنج رنگ ضخامت سنج رنگ EC555 یک دستگاه حرفه ای برای تشخیصض رنگ اتومبیل میباشد و صفحه نمایش رنگی و قابلیت آماری متعدد شما را برای کارشناسی رنگ یاری میکند .
ضخامت سنج رنگ EC555 تا رنج 2000 میکرون با دقت 1 میکرون روی آهن و آلومینیوم ضخامت را نمایش میدهد .
The EC-555 series thickness gauge is applied to measure the thickness of non-conductive coatings on metal surfaces non-destructively, as well as the thickness of non-ferromagnetic metal coatings on ferromagnetic metals (such as iron, nickel and cobalt). Specific applications are including the measuring of the thickness of iron, stainless steel surface paint or galvanized coating, aluminum, copper surface paint or plastic film, etc.
With the built-in magnetic induction and eddy current effect integrated probe, EC-555 has a measuring range of 0~2000μm and a measuring accuracy of ±(3%+1μm), and its resolution can reach up to 0.1μm.
EC-555 has a simple and standard menu interface, which can display a variety of statistical values or statistical graphs, and at the same time can indicate and alarm overruns. During the measurement, the user only needs to quickly fit the probe tip to the surface of the measured object. During the process of the probe shrinking into the instrument, the instrument can automatically distinguish the properties of the substrate and measure the thickness of the coating (plating) layer. Readings can be sent to the mobile APP via Bluetooth in real time. In addition, the instrument contains a large-capacity memory. During the measurement process, the instrument automatically counts and records the measurement results. The recorded data can be transferred to the computer at any time through the USB cable.
EC-555S has upgraded the probe based on EC-555, and its accuracy is ±(2%+1μm). Compared with EC-555, EC-555S has stronger anti-interference ability and can work in more complicated electromagnetic field environment.
EC-555SE is with external probe version, the gauge can be equipped with a variety of separated probes for easy replacement. EC-555SE is better suited to work in narrower spaces or on assembly lines compared with EC-555S.
【FEATURES】
·   ruby probe
·   2 inch colour screen
·   With Bluetooth and mobile APP function
·   Car or general mode
·   Resolution is up to 0.1μm
·   accuracy of ±(2%+1μm) (EC-555S/SE) 
·   Measurement range is 0~2000μm
·   Statistical analysis of data
·   Standardized menu interface
·   Display a curve, bar chart or trend chart
·   Record data and transfer to PC
·   Support zero calibration and multi-point calibration
·   External probe optional (EC-555SE)
·   Max measurement speed, 2 times/s
·   Auto rotation
·   Backlight adjustable
·   Volume adjustable
·   Auto shut-down
·   Low battery protection
【APPLICATION】
·   Measurement for car paint coating
·   Shipbuilding
·   Electroplate
·   Metal anti-rusting
·   Measurement for plastic foils
·   Hardware parts process